According to a new report sent by the Social Security Trustee Board to Congress a few weeks ago, the nation's primary retirement program may need a bailout of $46 trillion to sustain it going into the future.
To picture how big $46 trillion is, imagine multiplying the current national debt by 130%, or multiplying the country's GDP by 300%.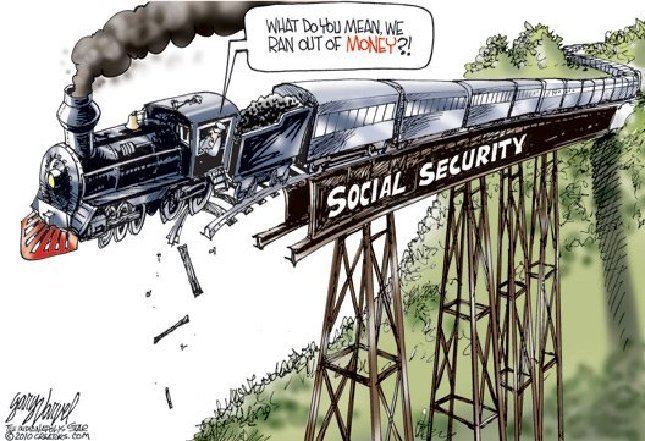 A few weeks ago the Board of Trustees of Social Security sent a formal letter to the United States Senate and House of Representatives to issue a dire warning: Social Security is running out of money.

The US government itself calculates that the long-term Social Security shortfall exceeds $46 TRILLION.

In other words, in order to be able to pay the benefits they've promised, Social Security needs a $46 trillion bailout.

That amount is over TWICE the national debt, and nearly THREE times the size of the entire US economy.

Moreover, it's nearly SIXTY times the size of the bailout that the banking system received back in 2008. – Sovereign Man
Yet it appears even a bailout of this magnitude would not save Social Security over the long run because three crucial factors now many the program completely insolvent in its present form.
 Wage growth is less than .3% per year
Economic growth is only around 2% per year
Birth Rate in the U.S. is declining
All three of these factors are necessary to be able to fund the ponzi scheme known as a social security since even at current levels only 2-3 people are paying into the program to support just 1 benefit recipient.
There has not been one single program the Federal government has or has tried to run that has not gone bankrupt due to the corruption and ineptitude of public officials.  And this even includes trying to run a business involving booze and prostitutes out in Nevada, where the IRS tried and failed when it took over the Mustang Ranch years ago.
Kenneth Schortgen Jr is a writer for The Daily Economist, Secretsofthefed.com, Roguemoney.net, and Viral Liberty, and hosts the popular youtube podcast on Mondays, Wednesdays and Fridays. Ken can also be heard Wednesday afternoons giving an weekly economic report on the Angel Clark radio show.