In the 20th century, and perhaps even after the advent of trade coalitions like the European Union, when international bodies implemented economic sanctions on a country, it was usually a death knell for their economy since anyone who broke the embargo was either investigated, fined, or hit with sanctions themselves.
(Go back to France when they did the Oil for Food trade with Saddan Hussein when Iraq was under sanctions)
But here in the 21st century the dollar's hold on the global monetary system is waning, as is U.S. hegemony as the only world superpower.  And in a microcosm of how economic sanctions imposed against Russia in 2014 have not only done little to harm Putin's regime, they have actually instead rebounded to harm the countries who followed those sanctions.
Now three years later, and even with the possibility of economic sanctions either being lifted by a new Trump Administration or by a lone wolf EU country vetoing the next annual sanction vote, the damage may have been irreparably done as a spokesperson for the Russian Agricultural Ministry said on Jan. 13 that even when sanctions are lifted, Russia may not go back to former businesses and trade partners whom they had to replace in 2014.
Russia is not going to automatically go back to foreign food suppliers if the country decides to lift the food embargo, Alexei Alekseyenko, an aide to the chief of the Russian agricultural watchdog Rosselkhoznadzor, said on Friday.

"That will be difficult because a long time has passed and many changes took place. There will be no automatic return to the earlier list of suppliers that existed before introduction of our retaliatory economic measures," Alekseyenko said on the sidelines of the Gaidar Forum. He added that it would be necessary to send Russian experts in order to check foreign companies that want to supply food products to Russia. "But that is a rather difficult and long process especially as we must cut expenses on checks of foreign companies," Alexeyenko said. – Sputnik News
Economic sanctions are a dying tool of foreign policy since they must rely upon the world as a whole walking in lockstep to Washington desires.  And all one has to do is see how sanctions against Iran, Syria, and North Korea have done little to destroy their economies since the rise of powerful independent countries like Russia and China can easily supplement and profit from America's failed gambits.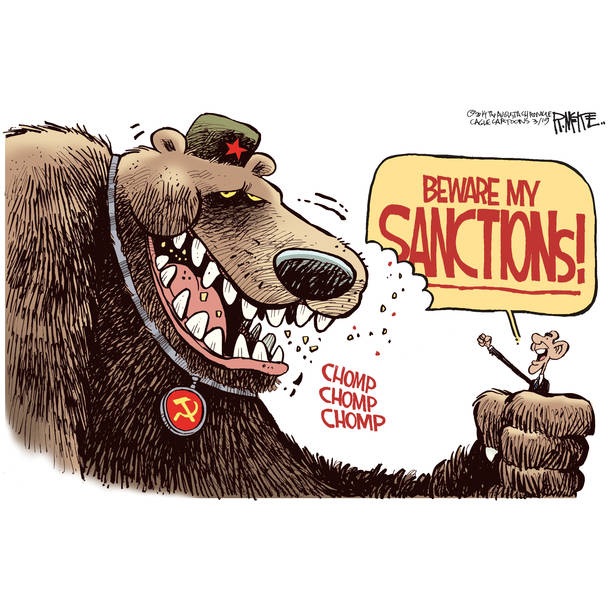 Ironically, the falling in line with the U.S. on sanctioning Russia may be one of the primary catalysts for the demise of the European Union, as the losses to businesses in nearly every EU state has grown into the hundreds of billion of dollars over the past three years.  And in a continuation of that irony, the one nation who has succeeded and thrived because of the sanctions is actually Russia, whom analysts at the beginning of 2017 predict that their economy and their currency will be one of the best performing this year.
Kenneth Schortgen Jr is a writer for The Daily Economist, Secretsofthefed.com, Roguemoney.net, and Viral Liberty, and hosts the popular youtube podcast on Mondays, Wednesdays and Fridays. Ken can also be heard Wednesday afternoons giving an weekly economic report on the Angel Clark radio show.