Unlike the majority of Democrats who almost always vote in lockstep to what their leadership demands, Republican members of the House and Senate often split with each other when voting for a given bill or program.  And this division has only gotten worse since around 2010 when a group of Congressmen entered into the GOP on the coattails of the Tea Party movement.
In fact, we saw this division play out just last week when ultra-conservative members of the 'Freedom Caucus' kept a potential repeal and replace healthcare measure from even getting to a floor vote in spite of strong support and efforts from the leadership.
And with this division having played out in one major piece of legislation important to both Republicans and the new President Donald Trump, a high level Republican on March 28 went public to state that a similar failure could arise between now and June on raising the debt ceiling.
In all the spirited rhetoric over the Republicans' failure to pass Obamacare repeal and confusion over what lies ahead, many pundits and market watchers seem to have forgotten that a far more imminent threat, one due exactly one month from today, is that the US government may shut down. As Axios pointed noted, citing a top Republican, after the GOP failure on healthcare, a government shutdown which looms when the continuing resolution runs out April 28 and coincides with Day 100 of the Trump presidency, is "more likely than not… Wall Street is not expecting a shutdown and the markets are unprepared."

Axios further notes that the message CEOs took from Friday's fiasco, according to an executive at a money-center bank, was "Holy crap! We may be facing the same crap on a shutdown threat, and on the debt ceiling. Holy crap! We may not get tax reform, or a repatriation bill, or infrastructure spend, or substantial changes to regulations."

However, while we agree with the quoted republican that by and large markets are unprepared, they are starting to realize that a government shut down is becoming an all too real possibility, as the following just released note from BMO's strategists Ian Lyngen and Aaron Kohli reveals.

The BMO duo note that they have been "fielding questions about 'what's next' for the administration in terms of legislative proposals – tax reforms? An infrastructure program to 'Repave America'?"

Here is their response:

While Trump would surely like the tax issue to be front and center, we're starting to hear growing concerns that a government shutdown at the end of April may be a real possibility given the rise of the Freedom Caucus. Moreover, with the Democrats emboldened by their success in averting the repeal of Obamacare (at least for now), there is clearly less incentive to 'play nice' with the rest of Congress. In short, rather than clearing the way for tax reforms to take center stage, the healthcare bill mistakes might have more damaging implications for the effectiveness of the new administration than the Trump camp wants to admit. – Zerohedge
Sadly, the history of the modern day Republican party is that they are well motivated to regain power when in the position of the minority party, but once they gain control they have no concept regarding unity and the willingness to follow through with promises made to their electorates.  This was seen back in 1994 when they overthrew the Democratically held House through their 'Contract with America', and of course later under George W. Bush when they gave the President everything he wanted including two wars, a taxpayer bailout of Wall Street, and total surveillance on the American people.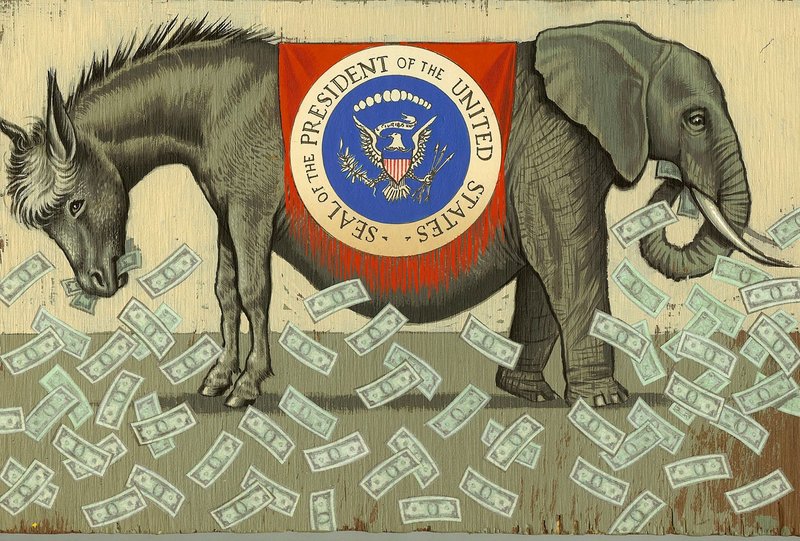 The fact of the matter is, there are no two parties functioning in Congress, but simply two heads on a singular beast.  And while President Trump and the Establishment Republicans are trying to blame the conservative Freedom Caucus for last weeks failure, the reality is that most Republicans don't have the stomach to follow through with their promises of repealing Obamacare, instituting tax cuts for the middle class, or in the real challenge coming upon them… which is cutting the budget from wasteful spending, and raising the debt ceiling at least once to try to restart an economy that for all intents and purposes is well into recession.
Kenneth Schortgen Jr is a writer for The Daily Economist, Secretsofthefed.com, Roguemoney.net, and Viral Liberty, and hosts the popular youtube podcast on Mondays, Wednesdays and Fridays. Ken can also be heard Wednesday afternoons giving an weekly economic report on the Angel Clark radio show.