Following last year's dismal holiday shopping season numbers, several retail chains announced that they were cutting thousands of store locations and tens of thousands of jobs, with even a few like Payless Shoes, Eastern Outfitters, and Wet Seal all filing for bankruptcy protection in the first quarter of 2017.
And in news out on May 13, the second leg of the consumer triumvirate appears to be ready to join the retail sector as restaurant chains begin to not only close store locations en masse, but many are also preparing to file for bankruptcy protection.
So another chain restaurant is "preparing" to bite the dust. Ignite Restaurant Group, which operates the Joe's Crab Shack chain with 113 locations and the Brick House Tavern chain with 25 locations, and used to operate the Romano's Macaroni Grill chain with 150 locations until it sold it in 2015, is preparing to file for bankruptcy, "people familiar with the matter" told Bloomberg.

In the quarter ended September 26, 2016, the last quarter for which the company bothered to release an earnings report, same-store sales fell 6.8%; total revenues plunged 10% to $120 million.

Industry-wide, same-store foot traffic fell 3.3% in April year-over-year. For the past three months, traffic is down 3.9%. Same-store sales in April fell 1.0% are down 1.8% for the past three months, according to TDn2K's Restaurant Industry Snapshot. – Wolfstreet via Zerohedge
As with the propping up of the banks and corporate America, the Federal Reserve and the government have relied upon consumers being willing and able to borrow massive amounts of debt to keep the economy moving, especially since most jobs created since the 2008 financial crisis have been either part-time, or extremely low wage.  And in continuation of what has been a constant for the now former middle class worker in the U.S., wages have remained stagnant and have lost out to inflation every year going back to around 1978.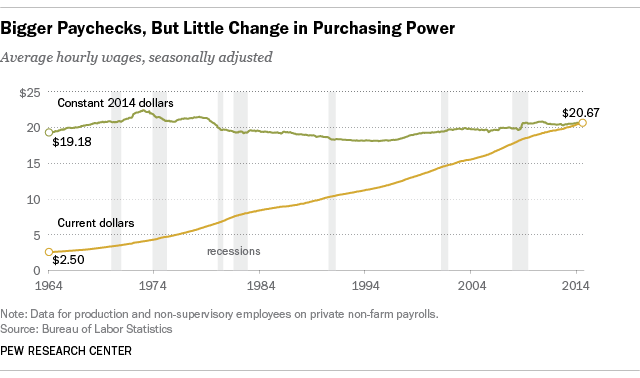 The bottom line is that we are probably just beginning to see the collapse of both retail and restaurants since the American consumer has no more blood to give when it comes to borrowing or spending in the economy.  And this can be no more evident than the fact that more than 50% do not have enough savings to even afford to cover a sudden emergency requiring $500 or more, and credit card debt outstanding is even greater now that it was at the top of the last housing bubble.
Kenneth Schortgen Jr is a writer for The Daily Economist, Secretsofthefed.com, Roguemoney.net, and Viral Liberty, and hosts the popular youtube podcast on Mondays, Wednesdays and Fridays. Ken can also be heard Wednesday afternoons giving an weekly economic report on the Angel Clark radio show.