In a sudden shift of the winds less than two weeks before the first round of French elections, the outside candidate, Jean-Luc Melenchon, has risen to third place in the polls and is causing markets and the bureaucrats in Brussels to cower in fear.
This is because despite the fact he is not expected to win the primary election, and then the subsequent runoff on May 7 that will definitely take place, his supporters when coupled with front-runner Marine Le Pen's voting bloc, give the anti-eu and anti-euro movement a strong 42% of France's population.
And this 'voice' may be enough for the French Parliament to order a Frexit referendum even if the pro-EU centrist Emmanuel Macron should win during the runoff election.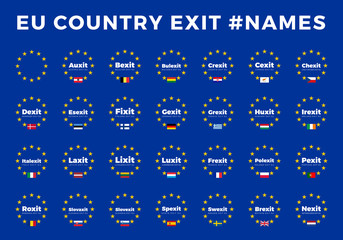 Stock markets around the world have reacted nervously to the surge in support for French left wing presidential candidate Jean-Luc Melenchon, who wants to call a referendum on France's membership of the EU and the Euro – an ambition he shares with Marine Le Pen, the leader of the Front National.

Melenchon — who is standing under the banner "Unsubmissive France" and who has been an MEP for south-west France since 2009 — was seen as an outsider several months ago, but has seen a surge in popularity, largely due to his huge YouTube following and his use of holograms to attend rallies.

In recent polls, however, he has risen from fifth place to third, behind Le Pen and Emmanuel Macron, who was economy minister under Francois Hollande before resigning to start his own party, called En Marche, which is a pro-EU centrist party. Macron has never stood for election before.

The fact that there are four frontrunners — of which two are extremes, calling for a referendum on French membership of the European Union — means that the two-part vote, April 23 and May 7 could be close.

If Le Pen and Macron lead the first round, then polls suggest Macron would win the second round. However, if there are significant votes for both Melenchon and Le Pen — which is likely — it could lead to calls for a referendum on French membership of the EU, despite them not winning the presidency. – Sputnik News
The breakup of the EU, the Euro, or both is almost guaranteed, with even one of the primary architects of the continental currency earlier this year stating that it was flawed and built to collapse from the start.  But when you add in the worldwide populist movement that helped usher in Brexit, and the election of Donald Trump, then even if France does not initially vote in a referendum to exit the coalition, many other countries like Italy, Spain, and Greece are very close to coming to a similar determination on their own future decision in whether to stay.
Kenneth Schortgen Jr is a writer for The Daily Economist, Secretsofthefed.com, Roguemoney.net, and Viral Liberty, and hosts the popular youtube podcast on Mondays, Wednesdays and Fridays. Ken can also be heard Wednesday afternoons giving an weekly economic report on the Angel Clark radio show.