Several alternative economists and financial analysts rightly predicted that the central banks and establishment financiers were holding off a financial collapse until after the election as a way to try to ensure Hillary Clinton won the Presidency.  And judging from the market turmoil occurring over the past two days since Donald Trump shocked the world, the dyke holding back the chaos appears now to have broken wide open.
Over the past year we have seen the world's second biggest shipper file for bankruptcy, currencies such as the Euro, Pound, and Yen get crushed against the dollar, and bond yields fall to negative territory for many sovereign countries.  And besides the beginning collapse of housing bubbles in both Canada and the UK, it appears as well that the bursting of the U.S. housing bubble could be underway with a massive spike in foreclosures that were buried in October from the general news.
The total number of homes with foreclosure filings jumped 27% in October from September, when they'd been at the lowest level since 2006. It was the biggest jump in monthly foreclosure filings since August 2007.

Compared to October last year, homes with foreclosure filings still decreased, but this nationwide decrease is covering up what is now happening in 28 states and Washington D.C., according to the Foreclosure Report by ATTOM Data Solutions. There, the inventory of homes with foreclosure filings is beginning to rise even on a year-over year basis. And in some states it soared year-over-year:

Colorado +64%
Georgia +22%
Pennsylvania +20%
Arizona +17%
Virginia +15%
Massachusetts +11%
New York +10%

When home prices rise for years, foreclosure filings become rare because defaulting homeowners can usually sell the home for more than they owe and pay off the mortgage. The problem arises when home prices fail to rise locally, and it balloons when home prices fall. We've seen that last time around. After bouncing along super low levels during Housing Bubble 1 through 2005, foreclosure filings skyrocketed during the housing crash starting in 2006. At first it was just an uptick that no one paid attention to. By 2008, it helped take down the financial system.

Foreclosure filings peaked in late 2009, began dropping in 2010, and then tapered down to 2006 levels as foreclosures were processed, and as the home price surge of Housing Bubble 2 made new defaults less likely. But the spike in October stands out as much as those in the early phases of the housing bust in 2006 and 2007. – Wolfstreet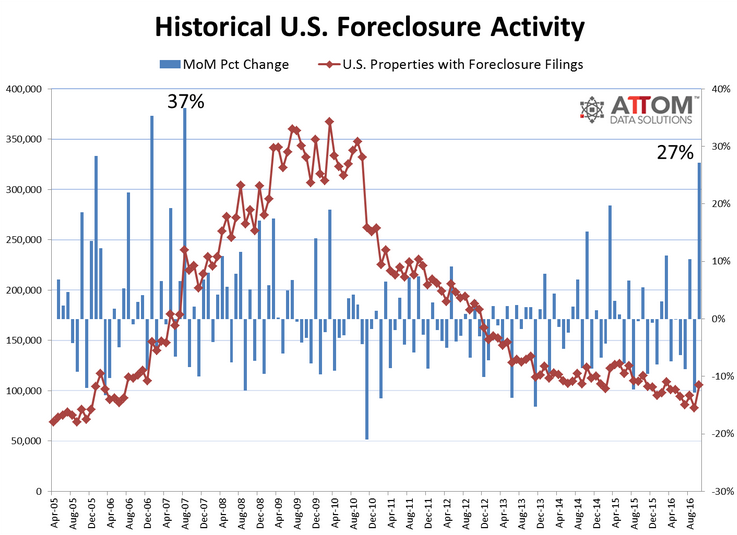 Chart courtesy of Wolfstreet
What this rise in foreclosures warrant, along with price collapses in oil, copper, and gold as well as bond yields in the U.S. rising to a near record spike for one day, is the sudden advent of deflation that could not only eliminate the potential of a Fed rate hike in December, but also open the possibility of a rate drop and new quantitative easing.
(Interesting how stocks exploded after being down 840 points at one time when it first appeared that Trump was going to win.)
Inexplicably, the same markets that priced in a Clinton victory and a continuation of the status quo are now pricing in the financial crisis the central banks covered up until Nov. 8 to try to promote a political agenda.  But in the end it never mattered who won the White House last Tuesday because the economy was overdue for a financial crisis that just happened to be released the moment a new President-Elect was selected.
Kenneth Schortgen Jr is a writer for The Daily Economist, Secretsofthefed.com, Roguemoney.net, and Viral Liberty, and hosts the popular youtube podcast on Mondays, Wednesdays and Fridays. Ken can also be heard Wednesday afternoons giving an weekly economic report on the Angel Clark radio show.